An Update on the FIRST Community in Botswana
Hi Friends, Donors, and Fellow Robotics Enthusiasts,
FIRST Tech Challenge robotics team 417 S.K.I.D hopes you are safe and healthy during these trying times. The coronavirus pandemic has had a devastating impact on our communities and brought about many FIRSTs 🙂 From social distancing to mask-wearing, our lives have been completely upended during this pandemic. The virus has also taken a heavy toll in Botswana, Africa a country our team visited in July 2019 to teach robotics and spread FIRST.
In partnership with the non-profit Dare to Dream, our team hosted a weeklong boot camp where we gave a group of 30+ teachers the FIRST LEGO League experience (https://www.firstinspires.org/robotics/fll). Teachers learned to build and program robots, fundraise, and design solutions to water related issues (project component of FLL) before returning to their communities to teach kids what they had learnt.
As a result of our efforts, 12 FLL teams were created and competed in an FLL competition in November 2019. The program was a huge success and we were set to return to Maun, in the northern part of Botswana, for another training program in the summer of 2020. Unfortunately, the scale and deadliness of the Coronavirus shut down life in both America and Botswana. In Botswana, it pushed students with an already minimal access to technology out of school for 8 months and many of the FLL teams we created have had to cease activities.
BIUST HACKATHON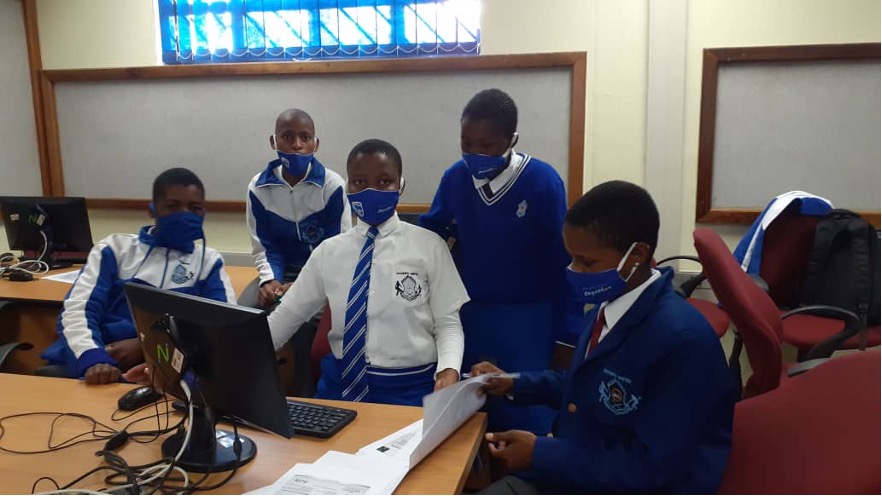 Throughout the pandemic, 2 teams have found opportunities to connect and engage with STEM. In early October, BIUST (Botswana International University of Science and Technology) the only university in Botswana that specializes in science and technology hosted the 2020 National Science week and STEM festival hackathon. After 2 hours of training on October 6th, 25 teams (5 age categories) competed in a virtual hackathon. Mahupu Unified Secondary School's junior and senior teams which were created as part of our 2019 summer training program were invited to the event after being noticed for their involvement in FLL and robotics. The Junior secondary team took 2nd place while the Senior secondary team came in 3rd in their respective categories!
Now, the teams have been invited to take part in the Science Circus, an event where students complete short experiments virtually. They are also participating in a Scratch (programming) training program organized by BIUST where teams will develop a screening application for COVID-19. FLL Coaches Onalenna Moilwa and TIroyaone Motsumi are really excited to see the kids apply their FLL knowledge to the real-world and develop new skills to solve pressing problems in their community.
DARE TO DREAM
In 2019, we worked with the nonprofit Dare to Dream to host our robotics bootcamp. The organization has continued their efforts to spread and expose African kids to STEM even during the raging pandemic. 
Learn more about the founder, Captain Kgomotso Phatsima here: Botswana Promo 
During the pandemic, network and internet issues made it difficult to host online events. As restrictions ease, Captain Kgomostso has been working tirelessly to host robotics, coding, aviation, space, leadership, and empowerment events for girls and boys during 2020.
In November she partnered with FNB (First National Bank of Botswana) to organize an event where young African children got the opportunity to fly on a plane for the first time in their lives! Kids were so shocked and surprised by the experience, that when the plane took off they screamed for it to stop!
The captain has also hosted girl summits to combat the increase in domestic violence cases and lack of girls returning to school. The summit is an opportunity for girls to meet STEM professionals like doctors and engineers and hear about their careers. As part of summit activities, students also got hands-on experience working with mentors to learn about design thinking, vision boards, and come up with solutions to pressing problems in their lives. The event has built many girls confidence in STEM, empowering them to apply their minds to problems and, most importantly, speak up for themselves.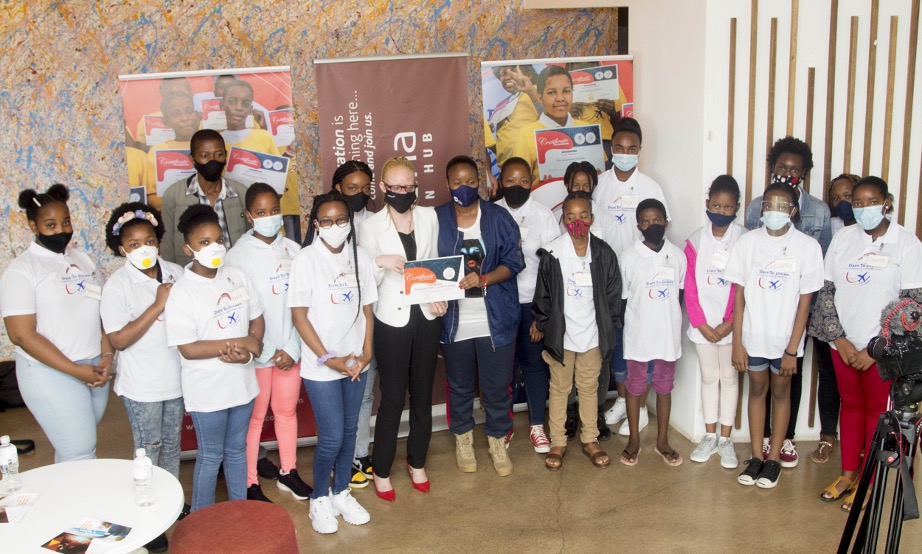 The Pandemic has forced Dare to Dream to downsize their staff to 3 people. They have had to reallocate their little remaining funds to rent, staff payments, merchandise, media, and printing materials. The lack of funds and continuous hosting of events has strained the captain. Despite these challenges, Captain Kgomostso has continued her mission of getting African kids excited about STEM.
Please consider helping her out and donating to the nonprofit: here.
What's next for Botswana?
As the Coronavirus subsides Captain Kgomotso is looking to the future. She plans to continue growing the FLL program in Botswana to 50 teams by hosting training programs in Maun with the help of BUIST. The captain is also looking to expand her nonprofit and create online courses about entrepreneurship, financial literacy, and self-esteem to empower kids virtually. On our part, Team 417 continues to fundraise for the Botswana FLL teams and Dare to Dream. The captain's inspiring mission is one that we hope to share with more people.
What's next for S.K.I.D?
Our robotics season this year has been full of surprises! Working virtually our team has had to prototype, test, build, and program a fully-functional competition robot. It has been a challenging but insightful experience into the importance of planning before building and learning to iterate on our designs based on the time we have to physically build our robot. As a team we are looking forward to participating in our first competition on March 31!
Thank you for your support of our efforts to bring robotics to underserved communities in Botswana and beyond. Please stay safe and healthy!
Best Regards,
S.K.I.D. (Space Koalas in Disguise), FTC Team 417